A video on Facebook showing authorities opening suitcases full of money has claimed that former Gabonese senate president attempted to flee the country after the coup.
"Breaking News: Former senate president of Gabon was arrested with huge amount of currency trying to escape from his country," reads the caption of the Facebook post….CONTINUE READING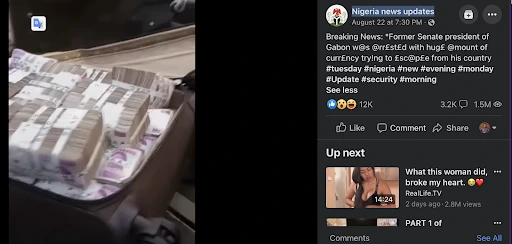 The post was shared by an account named Nigeria News Updates, where it gathered over 1.5 million views, 3.2k comments and 12k likes.
The video clip which went viral on different social media platforms including WhatsApp, X and TikTok shows some uniformed men alongside a group of individuals, trying to open a couple of suitcases that were discovered to be filled with money.
The bundle of banknotes were banded with tapes labelled BEAC, which stands for Bank of Central African States.
BEAC serves six Central African countries that form the Economic and Monetary Community of Central Africa. The countries include; Cameroon, Gabon, the Central African Republic, Chad, the Republic of the Congo, and Equatorial Guinea.
The Central African franc (CFA) is the official currency of the BEAC.
GABON COUP
Gabon, one of Africa's leading oil producers, joined the Commonwealth in June 2022, despite being a former French colony. About 90 percent of the Central African nation is covered by forest, which captures more carbon than the country emits.
On August 30, army officers in Gabon seized power after long-time incumbent, President Ali Bongo, was re-elected to a third term in office.
The coup d'etat in Garbon has led to the end of Bongo and his family's 55-year hold on power.
Gabon's junta named Brice Oligui Nguema, a general, as the transition leader. The ousted president was placed under house arrest. One of his sons was also arrested for treason.
"We have decided to defend peace by putting an end to the current regime," one of the soldiers said on Gabon 24, a television channel.
During the national broadcast which had twelve soldiers, the military announced that the election result, which the opposition denounced as fraudulent would be annulled, adding that "all the institutions of the republic" would also be dissolved.
On September 7, eight days after Bongo was deposed and placed on house arrest, he was released by the military due to "his state of health". In a statement read on national television, Ulrich Manfoumbi, the military spokesperson, said: "He may, if he wishes, travel abroad for medical checkups."
VERIFICATION
TheCable subjected keyframes of the video to reverse image search using Yandex. The search revealed that the footage was filmed in 2022.
The old video was filmed when Guy Nzouba-Ndama, former senate president and opposition leader, was arrested at the country's border while returning from Congo with banknotes estimated to be about two million euros.
VERDICT
The claim that the video shows Gabon's former senate president attempting to escape from the country after the coup is false. The footage was filmed a year before the military takeover….CONTINUE READING