SUBAIR MOHAMMED, BOLA BADMUS and LEKAN OLABULO report the uneasiness among street traders in Lagos in the face the state's authorities' decision to reactivate the ban on their mode of operation.
STREET traders in Lagos State have been thrown into fear following the decision of the state government to enforce a total ban on trading on highways, bridges and major streets order across the state….Continue Reading>>>
Governor Babajide Sanwo-Olu, penultimate Wednesday, declared zero tolerance for street trading, with the state prohibiting street trading on the Third Mainland bridge, Eko Bridge and other areas notorious for the practice.
Rationalising the need to renew the policy, Permanent Secretary, Office of Environmental Services, Gaji Omobolaji Tajudeen, said the ban was aimed at eradicating environmental nuisances through the enforcement of the state environmental sanitation laws.
He said: "Not only will all the wares hawked and displayed on major roads be confiscated, anyone apprehended would face prosecution at the mobile courts in line with the state's environmental laws. Lagos has no place for street traders who not only constitute an eyesore to the aesthetics of the city and expose themselves to hazardous situations, but also constitute a threat to security of lives and property.
"The enforcement exercise will be carried out by a special task force of the Kick Against Indiscipline (KAI) and other enforcement agencies. They will consistently come after any persons found engaging in prohibited acts such as street trading, indiscriminate dumping of refuse and hawking."
To enforce the directive by the state government to stamp out street trading on highways and other major streets within the metropolis, the state's Environmental Sanitation and Special Offences Unit (Task Force), on Monday, under the supervision of its chairman, Mr Shola Jejeloye, raided traders lining the Oshodi railway track and Apongbon Bridge.
Speaking during the clearance operation, Jejeloye said the agency had served several notices on the traders, especially those at the Oshodi rail track, encouraging them to desist from trading on the rail tracks.
He said: "For two years, we have sent out warnings to them but they don't listen. We served notices to occupants of shanties and kiosks at Fagba, all the way to Pen Cinema and Isokoko, but they didn't heed. We advised them to desist from hindering free flow of traffic and obstructing free movement of pedestrians along that axis. It is completely unfair to all Lagosians, and we will make sure that they are all cleared out with immediate effect."
Displaced and displeased
However, traders along major streets, bridges and highways across the state have expressed displeasure over the implementation of the no-street trading order of the state government.
Some of the traders who spoke to Saturday Tribune described the enforcement of the order as sudden and anti-masses and one capable of further inflicting hardship on them.
According to them, the state government has not put any infrastructure in place to ease their economic and financial burdens before making such a hasty move as sending them off the streets where they earn their daily living.
Relating her plight to Saturday Tribune, a trader on the Idumota Bridge in Lagos Island who identified herself simply as Mama Dele explained that in spite of the hassle they are subjected to, trading on the bridge comes at a cost.
She alleged that some of the traders pay as high as N20,000 as annual rent for a space on the bridge along with daily sundry charges.
Mama Dele, a trader in children's needs, claimed to be a tenant on the Idumota Bridge, saying she had been trading on the spot for 15 years and relied on profits from daily sales to fend for herself and her family.
The widow, a mother of four, claimed that traders on the bridge were not there by accident.
She told Saturday Tribune that many traders on the Eko Bridge were yearly-paying tenants whose rent for space is renewable between October and December and payable to the Omo oniles.
According to her, a tenant pays between N15,000 and N20,000 while food vendors, sachet water vendors and other traders pay N100 daily.
She also alleged that the police, KAI and CBD (Central Business District) personnel are paid tolls by the traders for protection and information throughout the week.
She said: "We are not there, on the bridge, by accident. We pay to the 'omo oniles'. And not only do we pay the officials of KAI and CBD, they also collect money from us for some people working in Alausa.
"These are the people that give information to them whenever the police or Task Force team are coming to raid us. The government officials give the 'omo oniles' real-time information about when the Task Force or the police are coming to raid people trading on the bridge. Once they give us the information, we leave the space.
"The omo oniles, three of them, are Lagos Island indigenes. They are the people selling spaces on the bridge to us and collecting money from hawkers moving around on the bridge. A space on the bridge goes for between N15,000 and N20,000 annually. It is N15,000 for old traders and N20,000 for new traders. The money is paid between October and December every year. And they collect N100 from those traders selling snacks, food, pure water and other stuffs daily.
"There is no ticket for the money collected but we are told the money is for a senior security officer, officials of KAI and CBD for protecting us and giving the omo oniles vital information about the operations of the Lagos Task Force.
"Both KAI and CBD officials allotted three days each to themselves for money collection. The arrangement is made to avoid conflict of interests.
Mondays, Wednesdays and Fridays are for KAI officials while CBD officials collect their tolls on Tuesdays, Thursdays and Saturdays.
"It is not that we are trading freely on the bridge, we pay. Many of us trading on the bridge actually have shops but we had to move and buy spaces on the bridge because of poor sales at the areas where our shops are located.
You know, many visitors to Lagos arrive on the bridge and we immediately put our wares in their faces. This has been helpful and sales have increased tremendously.
"We live on the profit we made realised from selling on the bridge. We feed ourselves and our children but now that Governor Babajide Sanwo-Olu is contemplating sending us away from the bridge, I don't know how he wants us to cope, especially with the poverty in the land.
"I have been trading on this bridge trading for about 15 years. It is not that I enjoy selling under the sun and in the rain, but there are no alternatives and I have obligations to fulfill at home. Governor Sanwo-Olu should concentrate on improving the lot of the masses instead of focusing on beautifying the state at the expense of the general wellbeing of Lagosians."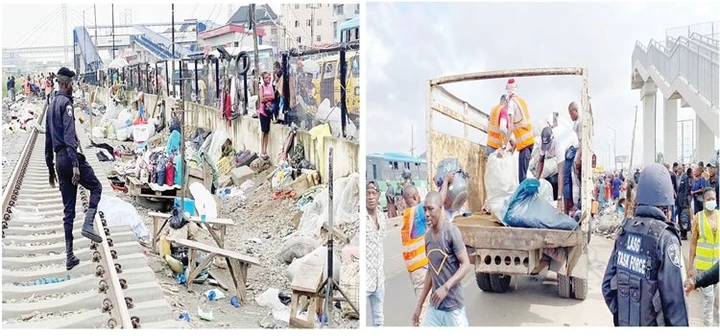 Another trader on the footway on the Idumota Bridge who identified herself simply as Mope claimed that she paid N50,000 for outright purchase of an 18-inch spot on the bridge.
She said: "Traders pay N50,000 for an 18-inch permanent space on the walkway on the bridge. But during festive seasons, the space is reduced to 14 inches to accommodate more traders. Aside from the payment, a trader is expected to pay daily fee of N400 and a monthly payment of N1,000 for security and other things.
"There is currently no space on the bridge. In fact, I know of traders who have paid but are yet to be allotted spaces; and these payments are not refunded. I wonder what will become of those of us with no financial muscle to rent shops, with children to cater for at home."
At Oyingbo Market in Lagos Mainland Local Government Area of the state, a trader in phone accessories, Wisdom, said he paid N1,500 daily to various collectors.
He expressed displeasure at the realisation of his imminent relocation to his home state, Ebonyi, due to the decision of the Lagos State government to implement the prohibition of trading on bridges and streets across the state.
He said: "Why are they making life miserable for us? How do they expect us to cope? How can they say innocent street traders are those robbing in traffic?
"We are no robbers. We are decent Nigerians trying to earn a decent living in Lagos State. I left Ebonyi State four years ago in search of greener pastures in Lagos. My phone accessories business has started to grow and then they are sending us out of Lagos, why?
"For a truth, the police and Task Force know who the traffic robbers are; they know their hideouts, why are they giving us a bad name?
"Is it a crime to be poor and striving to make ends meet? Since their targets are the traffic robbers, I will advise they go after them and stop lying against some of us who are of pure hearts and are in Lagos to earn a living through honest means."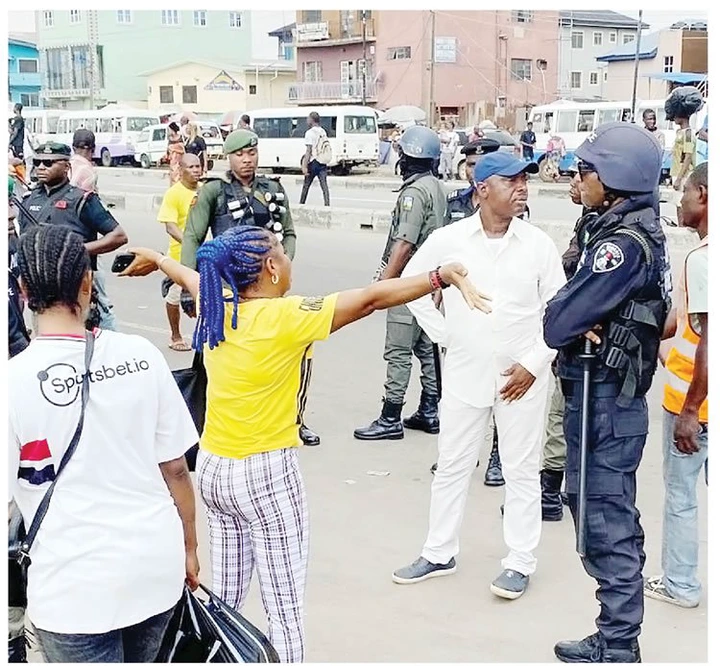 Tracking traffic robbers
Sticking to its gun that street and traffic trading is a major factor in the noticeable spike in traffic robbery, the image maker of the Lagos State police command, Benjamin Hundeyin, disclosed that 26 traffic robbers were arrested in different parts of the state between April and end of June this year.
He added that the state recorded 10 cases of traffic robbery within the period.
Hundeyin stated that the command had intensified efforts to further reduce the rate of traffic robbery in the state.
The PPRO said: "The command has just taken delivery of some motorbikes from the Lagos State government for the sole purpose of deploying them to fight traffic robbery. The Commissioner of Police in Lagos State, CP Idowu Owohunwa, met with the state government to discuss how to further reduce traffic robbery.
"The governor ordered the immediate release of motorcycles to the command. We have taken delivery of 45 motorbikes. These motorbikes will be deployed to further strengthen the fight against traffic robbery."
A police source who spoke to Saturday Tribune on condition of anonymity said: "The motorbikes are to be used between vehicles in traffic to checkmate traffic robbers. You know, our vehicles cannot easily go in-between vehicles when there is traffic. With these motorbikes, our men will be able to penetrate traffic."
Help catch dirty officers —KAI
The spokesperson for KAI, Lukman Ajayi, said the agency does not support extortion and no officer has been instructed to take money from traders or hawkers.
Ajadi therefore encouraged members of the public to take photographs of errant officers' badges and forward same to the agency for appropriate disciplinary actions.
No business as usual —Lagos govt
The state government said the order banning street trading has come to stay, saying indiscriminate trading and display of wares along the roads and highways will no longer be condoned by the current administration.
In a chat with Saturday Tribune, the Chief Press Secretary to the Governor, Mr Gboyega Akosile, said there are designated places for commercial activities and they do not include streets and highways.
He said: "The ban on street trading has always been on; it didn't start with this administration. It has always been something every administration has put in place and been enforcing. Street trading is not something that is good, nobody wants street trading and there are designated places for sales of products and wares.
"Government has always provided market stalls for the people of the state. For example, the administration of Governor Babajide Sanwo-Olu, in conjunction with local governments and development councils, constructed some market stalls in different local government areas in the state before the last elections.
"You will remember that the governor recently commissioned some in Ketu shortly after the last elections. We did it in Lekki-Ajah, in Ejigbo and other places. So, there are always alternatives for the people.
"One thing that we found out is that people just don't like going into the market stalls to trade probably because they believe that the costs of renting or purchasing the stalls are high.
"I know that government usually frowns at street trading because it also endangers the lives of people that engage in it.
"Some of the things the government is doing is empowerment through different ministries like the Ministry of Wealth Creation, through LSTF and so many other agencies of government, including Ministry of Women Affairs and Poverty Alleviation (WAPA), to encourage people to do businesses properly and move out of the streets. Street trading is not what we want to encourage.
"The government is putting in place machinery to ensure that proper enforcement will take place to ensure that people do not go back to the streets to trade. There will be strict enforcement. We need to discourage it and the government of Mr Babajide Sanwo-Olu is very determined to ensure that people don't go back to the streets to trade. So, it is not going to be business as usual.
"Let me put it this way, The government will not send people to collect levies from street traders. It is not possible. We don't do it. The government of Governor Babajide Sanwo-Olu will not do this kind of thing. If there are people who come to those who trade on the streets, they shouldn't pay them because at any rate, it is illegal to be on the streets to trade. Why should they even be paying to some people? It is illegality upon illegality….Continue Reading>>>
"So, these are some of the things that we really want to arrest and stamp out of our system."
Support Gistnub.com.ng , hold up solutions journalism
Balanced, fearless journalism driven by data comes at huge financial costs.
As a media platform, we hold leadership accountable and will not trade the right to press freedom and free speech for a piece of cake.
If you like what we do, and are ready to uphold solutions journalism, kindly donate to the Gistnub.com.ng cause.
Your support would help to ensure that citizens and institutions continue to have free access to credible and reliable information for societal development.
Account Name:_Yusuff Saheeed Olamilekan
Account No:_0094275613
Bank Name:_Sterling Bank